Now I have a name for my Hugo course it's tempting to go all guns blazing with a whole new identity and website.
Somehow I managed to convince myself that all I really need right now is a basic landing page and sign up form. But it's hard not to do something to bring all this to life, so I ended up designing a simple color palette and logo mark.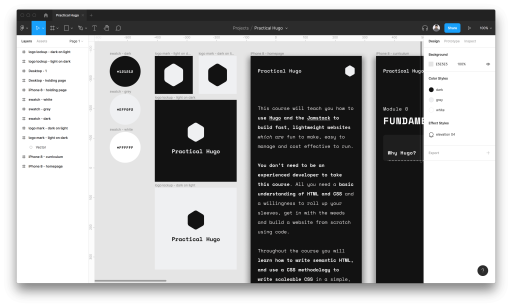 If you're familiar with Hugo, then you might well recognise the mark as an abstraction of the Hugo logo.
Remove the color and the type, round the corners and tweaked the shape (to satisfy my obsession with the 8pt grid). Now I have something different, yet familiar – try and do me for plagiarism.
I've been putting a curriculum outline together alongside this, as I know content is where I should focus my energy. But planning content is a lot more difficult than I was expecting. I'm used turning notes into articles, so this is a real mindset shift.
Maybe I'm overthinking it, but that's only because I want this course to be more than the typical tutorial. At least this lite branding exercise has helped make it feel like more of a thing.
At some point I should share this course on Twitter and I will in time. But it's almost the holidays and I doubt many of you are listening. One thing at a time, I'm in no rush and I'm having fun with it.